The 18th Computer-Aided Architectural Design Futures 2019 was held in KAIST, Daejeon, Korea Republic of on 26th-28th June, 2019. Our Prof. Lee (conference chair) host the conference in GSCT KAIST and the students were participated as conference staffs.
CAAD futures is an international conference which is to discuss and develop computational design methodology through the various areas within the multidisciplinary approaches. In 2019, the theme of the conference is "Hello, Culture!" borrowing from "Hello, World" which is used in all programming languages. About 200 people from 87 institutions, 36 countries, participated in the conference.
Five workshops on various subjects were held from 20th-25th.
We invited three keynote speakers, Terry Knight, Robert Woodbury, and Kwangyun Wohn.
The paper presentations were categorized under six subjects: (1) Theory, Methodology and Practice of Architectural and Interior Design, (2) Support Systems for Design Decisions, (3) Tools, Methods and Implementation of Urban Design, (4) Rethinking Space and Spatial Behavior, (5) Fabrication and Materialization, (6) Shape Studies. It was good opportunity to examine the research trends by hearing presentations and feedback from many people.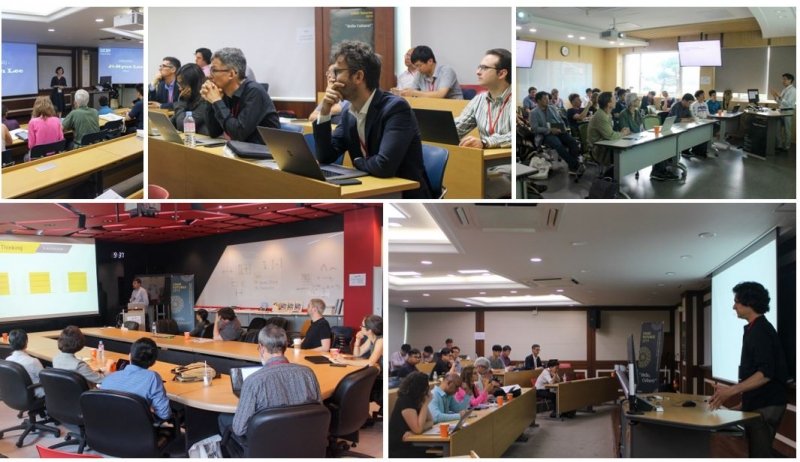 Besides all those presentations and business meetings, it also enabled the social networking and cultural exchanges among researchers during the conference. Participants discussed not only at the break time, but also at the banquet. We also had free Hanbok (traditional Korean clothes) experience offered by Daejeon International Marketing Enterprise for the attendees.
After the conference, we had the conference tour to Buyeo. Despite the rain, the participants enjoyed exploring the Busosanseong Fortress and Jeongnimsaji Temple Site which were a part of the UNESCO Baekje Historic Areas, as well as the traditional royal style rice in lotus leaf for meal.